KSC History
During his thirty years in the transportation industry, Kevin Swett (founder) gained enough industry knowledge to provide services to Seattle customers. With the help of American Express, and previous cartage contacts, the first shipment moved from Los Angeles to Seattle on July 13, 1987. The initial company was named; KSI. With a name change in 1988 the company was called KSC Freight Inc.
The initial growth was incredible! Within months, staff was added and the company moved into its second office. The client base began to diversify from day one. The initial customer, Morel Industries named KSC Freight Inc as its primary logistics vendor. Gaining immediate national presence, KSC Freight Inc. was able to attract high profile clients.
1990 KSC Freight Inc. began to offer international services, which included airfreight, ocean freight, and customs house brokerage.
1992 KSC Freight Inc. refined a "Return To Vendor" program for Nordstrom. The Nordstrom program was the initial cornerstone for the warehousing program in use today. KSC Freight Inc. controlled the "Return To Vendor" freight from Nordstrom warehouse in Los Angeles California, Newark California, Dubuque Iowa, and Upper Marlboro Maryland to thousands of Nordstrom vendors.
1992 KSC Freight Inc. is chosen as an approved carrier for General Instrument.
1994 KSC Freight Inc. began its customer tracking systems. Utilizing computer assisted retrieval technology; clients were able to receive time sensitive information.
1996 KSC Freight Inc. began a non-exclusive international airfreight arrangement with Specialty Cargo Inc. This agreement provided KSC Freight Inc. the ability to control international inbound and outbound cargo for its clients.
1997 KSC Freight Inc. began a non-exclusive agreement with Robert E. Landweer to provide technical customs support.
1998 KSC Freight Inc. entered into a non-exclusive agreement with Transgroup to provide domestic transportation services.
2002 KSC Freight Inc. began its warehouse "Pick-N-Pack" services in Seattle Washington.
2003 KSC Freight Inc. opens its "Broadband Communications Center", providing instant communications and the ability to analyze programs as well as special project coordination.
2007 KSC Freight Inc. began warehouse operations in Atlanta Georgia, Vancouver British Columbia Canada and Toronto Ontario Canada.
2010 KSC Freight Inc. added warehouse services in Dallas Texas.
2011 KSC Freight Inc. teams up with SkyTrace worldwide tracking systems.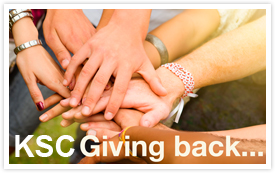 KSC Freight, INC is proud to support Canine Companions for Independence and the National Intercollegiate Rodeo Association.