KSC Freight teams up with SkyTrace with GPS Tracking
Late in 2011, we discovered that we needed more efficient methods to obtain immediate information on our critical shipments. We needed the ability to track our customers freight NOW and know where it is at all times.
Not only did we need the ability to track, but have information and route deviations alerted to us via multiple technologies... Enter SkyTrace
SkyTrace Overview
Asset Tracking & Management Solutions – Auto, Trucking & Cargo Industry
Software Platform utilizing best of breed technologies: GPS, GSM, WiFi, Cell-ID, & RFID

R&D USA and Offshore

R&D USA and Offshore
Proven Solutions - Secure, Scalable, Efficient
Strategic Position in M2M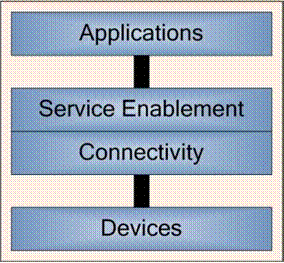 Partnership with VSM
InfoSpectrum On Asset, etc
Raco, AT&T, Jasper, Verizon, Rogers
Falcom, Maestro, CalAmp, QuicTel, etc
Project Scope
Objective
Provide a GPS GeoFencing Freight tracking and tracing system for our customers that will seamlessly integrate with all ERP and dispatch systems.
Design approach:
The design calls for deploying a tracking, tracing, monitoring and reporting system for freight that is being transported by a contracted carrier

The systems would be covertly placed within a FedEx type box, which would contain a tracking device with extended battery in a Pelican hardened case. The package would be synchronized to a bill of lading and be attached either to the freight or handed to the driver for hand delivery to the receiving point contact.

The receiving point POI would be set up with a dynamic GeoFence- 50 Miles out, and at the location. When a delivery breaks the 50 mile GeoFence, the system would trigger an alert to KSC dispatch to notify the receiver of incoming freight. Once the freight reaches the final destination GeoFence, the system would notify KSC of completed delivery.

The system would be pinged every 30 minutes to determine location of freight

Once the delivery is completed, the FedEx package would be returned to KSC for use on another shipment
Tracking, Tracing and Freight Management Systems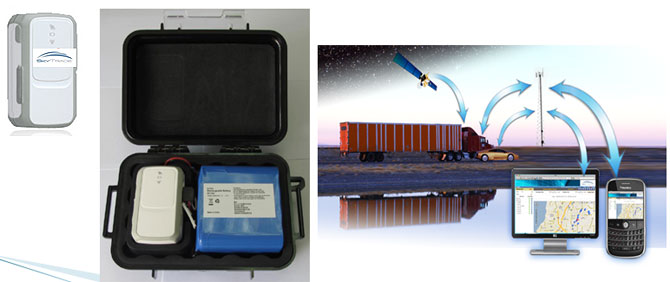 How It Works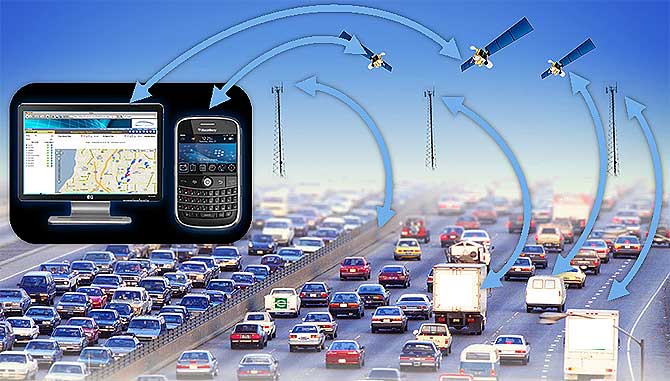 System Functionality
Vehicle Tracking:
Track location, speed, idle, stop time, mileage, and routes

Unlimited, real-time tracking – user defined interval (1 min, 2 min, 5 min, 30 min, etc).

Geo-fencing - draw routes and set boundaries, then receive alerts when a trailer deviates from its defined route.

Information via any internet connected device - smartphone, in-vehicle device, laptop
Scheduling and Dispatch
Route Reports - audit the routes that drivers take and identify problems, reduce the miles that are driven by your fleet drivers and thereby reduce costs

Static Routes - load all the stops for a particular route, allow dispatchers to watch in real-time as a vehicle travels and manage any delays
Freight Tracking System
Quad-band operation - 850/ 900/ 1800/ 1900 MHz bands

GSM / GRPS (TCP or UDP) or SMS communication channels

10 device programmable geofences

Shock & Vibration: SAE J1211

Weight: 60g

Built in Quad Band GSM antenna

Compliance

FCC Part 15B, 22H, and 24E certification

PTCRB certification, approved by AT&T

RoHS

A-GPS position aiding

TTFF typically 3s when hot, < 40s cold

Input/Outputs: 1 analog, 2 digital

Temperature Range: -200C to +550C (ETSI compliant)

OTA – software and firmware maintenance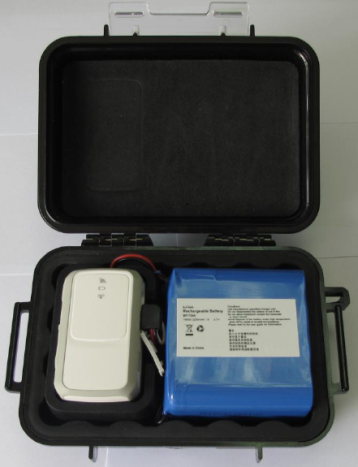 Special Features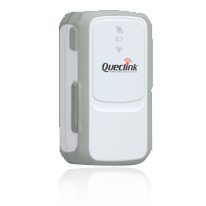 Motion Sensor

1 Year Battery Life

Low Battery Alert

Tamper Alert

Embedded Track Protocol

Water Resistant
Global Dashboard by Region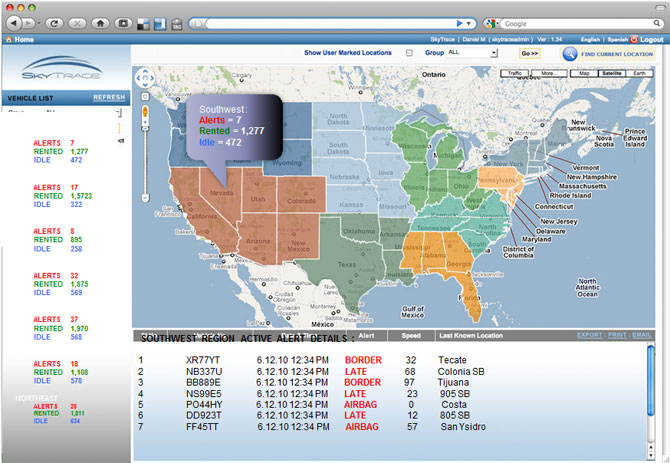 Cross Border Control- Geo Fencing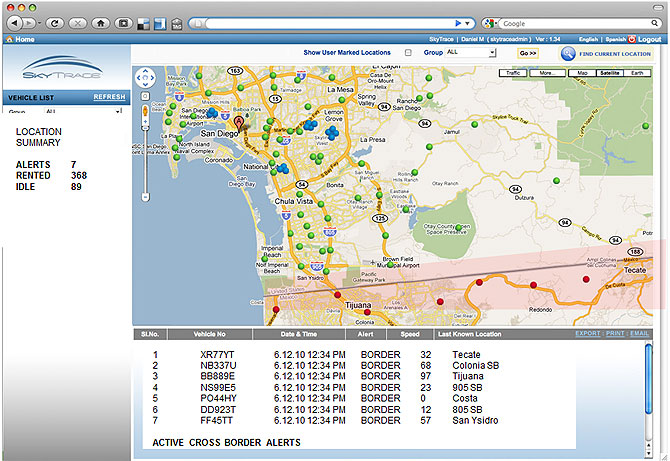 Alerting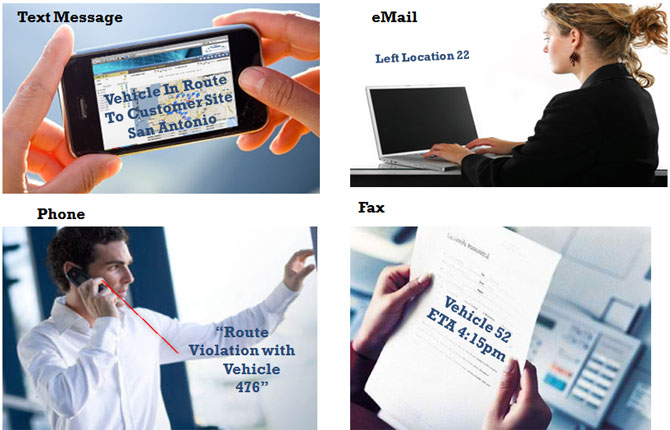 Benefits
Solution offered as Service
No business interruption

No retooling of IT infrastructure

Variable costs.

Full redundancy Network Operation Centers – Tukwila, WA, SeaTac WA, Dallas TX, San Diego CA & India.
Benefits
Quick & easy implementation

Scalability – start small, grow large

Improved customer service

Measureable ROI –

Loss Prevention

Labor Accountability

SAFETY
Unique Selling Points
Comprehensive Product Offering
Rich Functionality - Track, Trace, Manage, GeoFence, Motion Detection, Alerts – speed, idle, stop, fuel usage, acceleration/braking, theft detection, Full real time and historical reporting

Flexible – user defined and fully customized capabilities
Comprehensive Product Offering
Integrated GSM Chipset – 1 arm processor, minimizes power consumption

Highly Sensitive Omni-directional internal antenna to maximize GPS "reach" and accuracy

Backup battery to ensure "always on" technology
"People" Oriented Culture
Flexible and Easy to do Business With
Tracking, Tracing Asset Management Parent Real Time ETA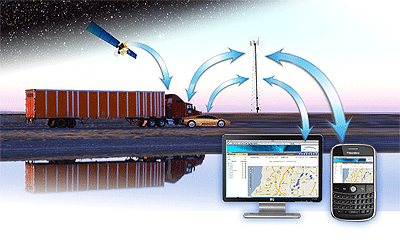 1st to Market with Dynamic GeoFencing of Routes and Stops
Reducing Customer Total Cost of Operational Exposure Through Advanced Telematics